White Associates Representing Byk Rak
Today's savvy traveler combines public transit with green wheels. It's never been more important for transportation providers to accommodate cyclists and their bicycles.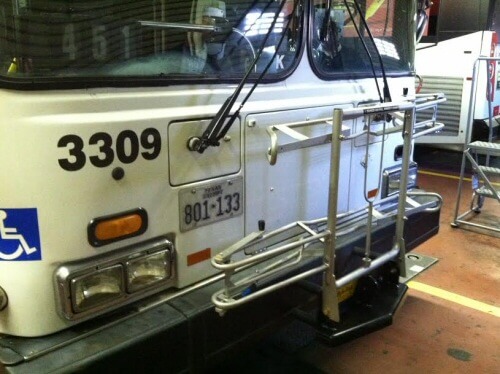 But in accommodating the few, no bus company wants to upset the many with long delays as bikes are loaded and unloaded.

At White Associates not only do we want to get people moving, we want to keep them moving.

That's why we've partnered with Byk-Rak LLC, the leaders in bike rack construction for transit buses.

Byk-Raks have been road tested and proven in busy transit departments across the country since 2003 and their unique design and quality manufacture have come out on top time and again. They have been installed on more than 35,000 city transit buses and shuttle buses across North American and Canada and continue to out-do their competitors.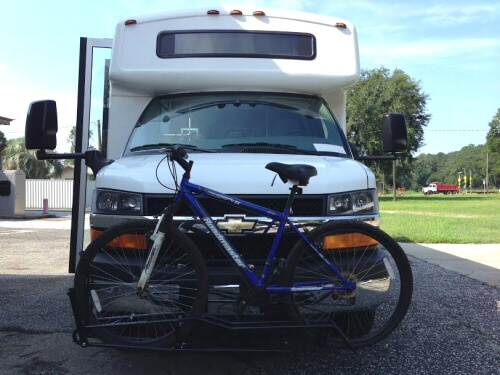 Why do we like Byk-Rak?

•

Byk-Rak is American-built of top-quality materials: 304 stainless steel with a wall thickness of 3mm.

•

Byk-Rak is modular in construction. In the event that a rail is damaged it can be replaced—there's no need to replace the entire rack as with competitive designs.

•

Byk-Rak can be removed from the bus in less than 30 seconds for ease of maintenance or storage.

•

Byk-Rak can accommodate any make or size of bike.

•

Byk-Rak can go through any automated bus wash.

•

Byk-Rak provides safe, easy loading and unloading from the curbside or the front of the bus.

•

Byk-Rak can carry up to 250lbs and has space for either two or three bikes.

•

Byk-Rak is much more compact than its competitors: in the stowed position it protrudes less than 7 inches beyond the bus front bumper and when deployed less than 36 inches. The 3-position Byk-Rak is just 82 inches wide and the 2-position model is less than 60 inches wide.

•

Byk-Rak is famously easy to use: While still in design, it was tested on riders with no previous Byk-Rak experience. On average, a cyclist could load or unload any bike in under 10 seconds. When keeping to a transit schedule that sort of speed is vital.